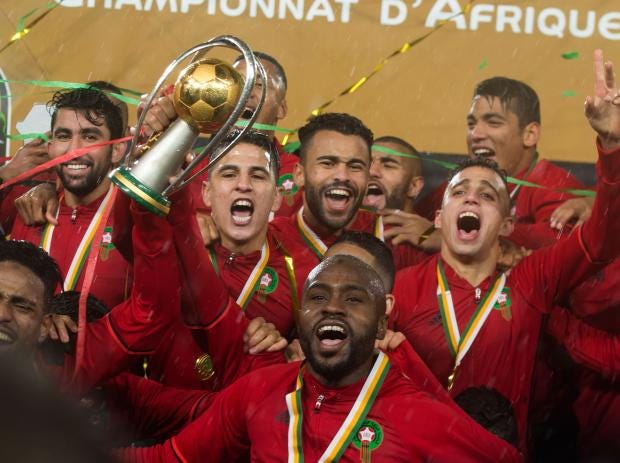 At the end, the overwhelmed Moroccan players waited in the heavy rain to collect their winners' medals from the 14-year-old Crown Prince Hassan. Some were brave enough to ask him for a selfie. After he had left the pitch at the Stade Mohammed V, named after his great-grandfather, the real celebrations could begin.
There were fireworks, but most of all the tens of thousands of fans who had braved the rain just wanted to see their players with the trophy. It was the first Morocco had won since 1976.
You may never have heard of CHAN and you are unlikely to have ever seen any of these players play. This is the younger brother of CAN, the Africa Cup of Nations. Here, only players who play club football in their home country can be picked. So there is no Mohamed Salah, Sadio Mane or Riyad Mahrez. Only players who have not yet taken the journey into the European club game. Which is why, unlike CAN, it can go undetected by our own football calendar.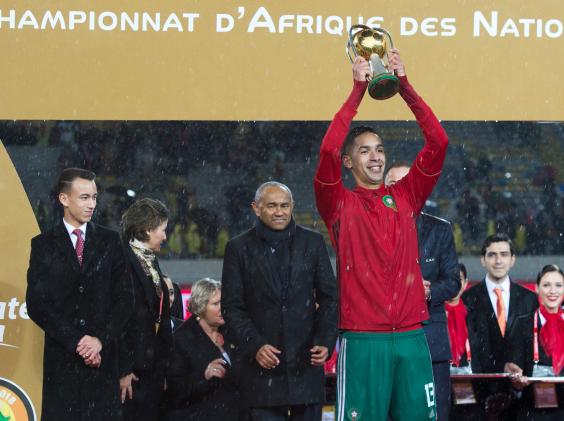 But last night in Casablanca this Morocco team put on an exhibition, demolishing Nigeria 4-0, a scoreline that could easily have been doubled. The Moroccan league is of a good standard, and Wydad Casablanca, the dominant team, won the CAF Champions League in November. This Moroccan side, then, were brilliant throughout, playing brave, precise, technical football. They played out from the back, zipping the ball across the sodden pitch. Nigeria were barely even playing kick and rush.
The star of the night was Zakaria Hadraf, the right winger who swept Morocco into the lead with the last kick of a dominant first half. Once Nigeria's Eneji Peter Moses was sent off three minutes into the second half, Nigeria collapsed. Morocco won the game with three goals in 12 minutes, including another from Hadraf, and it was only the waterlogged pitch and some selfish finishing that stopped them from scoring twice as many as they did.
The fourth goal came from Ayoub El Kaabi – who else – his ninth goal of a record-breaking tournament. Morocco has plenty of footballing heroes, like Mehdi Benatia, Hakim Ziyech or Sofiane Boufal, but they are slightly removed from Moroccan life: living in Europe, playing in Europe, and often born there too. CHAN gives football fans access to more local heroes and Ayoub, the man of the tournament, is the perfect example.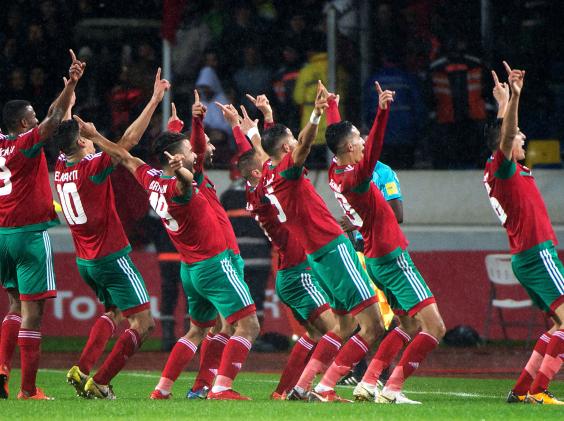 Just last season Ayoub was playing in the Moroccan second tier for Racing de Casablanca, but he scored them the goals to get them promoted. That earned him a summer transfer to top-flight side  Renaissance Sportive de Berkane. Now his athletic, audacious centre-forward play this month means he is set for a far more lucrative move. The big Saudi clubs all want him and Zamalek in Egypt have offered $3million for him already.
The whole tournament is awash with scouts, even from clubs as big as Paris Saint Germain, and some players have already earned themselves moves from African leagues into the big time. Of Ayoub's team-mates, the nimble Achraf Bencharki was sold last week from Wydad Casablanca to Saudi side Al-Hilal, who paid a $5m fee and will pay a $3m salary. Jawad El Yamiq, Morocco's graceful centre-back, has just been sold to Genoa for roughly £650,000.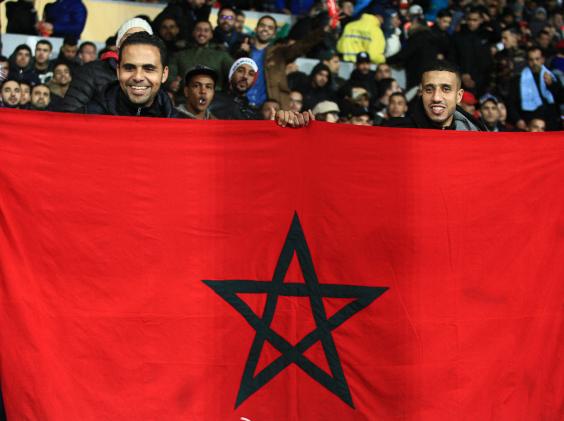 Just as attractive is the prospect of making it in to Herve Renard's Moroccan senior team for the World Cup this summer. Renard has plenty of European-based talent but he has been watching CHAN eagerly and there is now a groundswell of local support for some of these players – especially Ayoub – to be in his 23-man squad for Russia. When Morocco play Serbia and Uzbekistan in friendlies in March, Renard will have to throw some of these players in. If they impress, they may get to play Portugal in Moscow on 20 June, or Spain in Kaliningrad five days later, two of the biggest games in modern Moroccan football history.
At a time when international football is increasingly removed from fans and players at home, and when elite football feels like a different sport, rather than a pinnacle, CHAN pulls in the other direction: both a celebration of local leagues but also a pathway from them to the top. No wonder the Moroccan players were so ecstatic to win, and the fans so happy to stay in the sideways rain celebrating.