At IBM's inaugural THINK conference which kicks off today in Las Vegas, the company will be announcing what it describes as the world's smallest computer.
It's an IBM-designed product that's smaller than a grain of salt, will cost less than 10 cents to manufacture and can monitor, analyze, communicate and act on data. It also packs several hundred thousand transistors into a tiny footprint to act as a crypto anchor technology.
Broadcom Ltd (AVGO.O), led by dynamic Chief Executive Hock Tan, is unlikely to put the brakes on an acquisition spree after its $117 billion bid for Qualcomm Inc (QCOM.O) was blocked by U.S. President Donald Trump on national security grounds.
That was the immediate reaction from Wall Street's tech sector analysts to Trump's surprise intervention on Monday afternoon to block what would have been the biggest ever tech merger.
Most assumed Broadcom would walk away from the Qualcomm deal and some identified San Jose-based Xilinx Inc (XLNX.O) and Israel's Mellanox Technologies Ltd (MLNX.O) as its likely next targets.
"We'll see if there is anything else Broadcom can do to fight but given a likely long timeframe for a battle, and the fact that (U.S. government panel) CFIUS seems so arrayed against them, we suspect they may be near the end of their rope," Bernstein analyst Stacy Rasgon said.
Broadcom could not be immediately reached for comment.
While a Qualcomm deal would have made Broadcom the dominant supplier of chips used in smartphones and brought the company to the forefront of developing technology for the next generation of mobile network technology (5G), it can still make a string of smaller deals to build heft.
Toshiba Unveils Windows-based Smart Glasses Solution:
Toshiba has unveiled the dynaEdge AR Smart Glasses, a wearable Augmented Reality (AR) solution that uses a Windows 10 Pro PC and industrial-grade smart glasses.
The enterprise solution packages together Toshiba's new dynaEdge AR100 Head Mounted Display (HMD) – developed in a partnership with Vuzix – with its dynaEdge DE-100 Mobile Mini PC. It provides Document Viewing, Live Video Calls, See-What-I-See, Photo/Video Capture, Alerts/Messaging, Workflow Instruction and Barcode Scanning capabilities. Available in the second quarter with a starting MSRP of $1,899.99, the dynaEdge AR Smart Glasses is offered in various configurations with processor, memory and storage options as well as developer's kits for different industrial applications.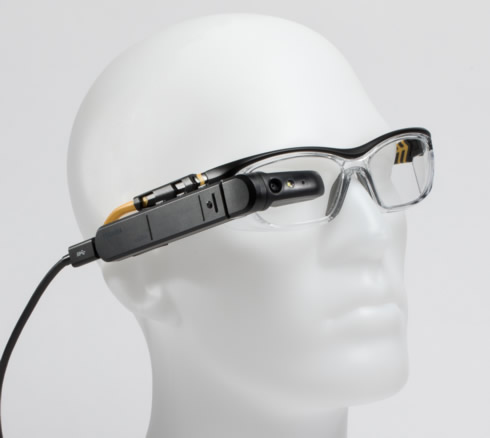 Weighing in at less than two ounces, the wearable Toshiba AR100 Head Mounted Display is used with either the left or right eye based on user preference. It features an integrated micro display that provides a viewing experience equivalent to a 4.1-inch display seen at 14 inches. The HMD has an integrated touchpad, GPS, three-axis accelerometer with a gyroscope for head tracking, 5MP POV camera, speaker and dual noise-canceling microphones.
image: http://ksassets.timeincuk.net/wp/uploads/sites/54/2018/01/Jonghee-Han-President-of-Visual-Display-Business-at-Samsung-Electronics-introducing-the-new-2018-QLED-TVs2-920×614.jpg
What follows is Samsung's TV lineup for 2018. It isn't the complete range, since Samsung is only confirming its QLED models for now. I'll be updating this page with news about the more affordable models as soon as it becomes available.
Usually, I'd just run through the list of TVs and explain the differences between models. This year is different, since Samsung hasn't only shared its 2018 plans with Trusted Reviews; the company has revealed its battle plan for the next few years, specifically regarding how it aims to fight the growing OLED market.
I'll start with the freshly announced QLED information, then follow it up with an explainer of Micro Full Array and Micro LED tech below. Here is Samsung's crazy three-point plan to beat OLED.
You probably don't need a 4,000 word review to tell you that the Galaxy S9+ is a good phone.
Now that everyone's got all of the Note 7 jokes mostly out of their system, we can mostly agree that Samsung makes good phones. The S8 was great, and the S9 builds on that success in a number of ways.
The new phone is mostly an evolution of its predecessor. There was no great back-to-the-drawing-board moment in its creation. This is not Samsung's answer to the iPhone X (and really, the Note line already fills that role in a number of ways). It's true the company may be a victim of its own hype.
The "Phone Reimagined" signs that greeted us ahead of launch in Barcelona were suitably hyperbolic, but for better or worse, that's the hype cycle we're living in these days. Samsung claimed to have reinvented the phone this time last year when it showed off the S8's Infinity Display.