Magic Messi leads Argentina into World Cup final. Genius forward opens the scoring from the spot and Julian Alvarez nets twice to defeat Croatia.
Argentina v Croatia | Semi-finals | FIFA World Cup Qatar 2022™ | Highlights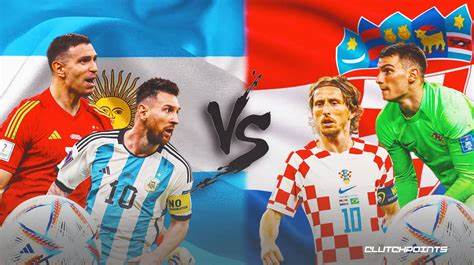 Lionel Messi thumped home penalty for Argentina lead
Julian Alvarez struck either side of half-time to wrap-up comprehensive victory
South Americans will target third World Cup in final on Sunday
Argentina 3-0 Croatia
Goals: Argentina: Messi (34 pen), Alvarez (39, 69)
Match review
The dream that appeared to be going up in smoke when Saudi Arabia inflicted the shock of this FIFA World Cup™ is not only alive, it is 90 minutes from becoming reality. Lionel Messi is one match from crowning an extraordinary career with the prize he yearns the most.
What's more, with the penalty he scored to put his team in front here, Messi drew level with Kylian Mbappe on five goals in the Golden Boot tussle. The Golden Ball for best player? That's within his reach, too.
Messi was outstanding at Lusail Stadium and so were Argentina, emerging from an even, edgy opening half-hour to grab the game by the scruff of the neck and never let go. Dominic Livakovic made a straight forward stop from Enzo Fernandez after 25 minutes, while all Croatia could muster for their superior possession share was a deft effort floated too high by Ivan Perisic after Luka Modric prompted a fluent counter.
That would be the most we saw of Croatia's renowned technicians, ultimately suffocated by the speed and aggression and control of Lionel Scaloni's incessant players.
Argentina led when Croatia centre-halves Dejan Lovren and Josko Gvardiol lost their bearings following a ball over the top, allowing Julian Alvarez to escape. Alvarez toed the ball past Livakovic and the keeper resorted to illegal means to prevent the striker collecting it on the other side.
Argentina: Messi celebrates semi-final victory
Watch as Lionel Messi celebrates his side's 3-0 FIFA World Cup™ semi-final victory over Croatia.
Livakovic has established a reputation as a penalty specialist after four shootout stops at this tournament. But the 27-year-old didn't have a hope with Messi's strike, belted into the roof of the net for a fourth goal from the spot – including shootouts – in Qatar.
Croatia's attempt to respond ultimately came back to bite them. A corner was worked to Marcelo Brozovic on the right of the box, but the cross was cleared and eventually helped on by Messi, applying a touch a fraction before he was upended.
Alvarez picked up possession on halfway and immediately made straight for goal. He was helped by right-back Nahuel Molina displaying the endurance of a cross-country runner to charge the length of the field, distracting defenders and clearing Alvarez's path.
Still, Alvarez didn't have it all his own way. He's a skilful player and sometimes appears to have Velcro attached to his instep. But in this instance, Alvarez chose strength over finesse, barrelling through Josip Juranovic and Borna Sosa, before poking the finish past Livakovic. The keeper, once more, was helpless to resist.
Argentina went searching for the killer blow. Rodrigo De Paul's shot hit Gvardiol on the hand but the defender's arm was by his side. Alexis Mac Allister met the subsequent corner to force Livakovic into an athletic stop leaping to his left.
Argentina: Fans react to Croatia victory
Watch the post-match fan reactions as Argentina trounce Croatia by three goals to nil in the FIFA World Cup™ semi-final.
Emiliano Martinez at the other end was all-but unemployed. He needed to get down sharply to divert behind a cross from Juranovic – and after the break, there was a good stop to deny Lovren after Modric curled over a left-wing free-kick.
But Argentina were in charge. Livakovic saved at his near post form the imperious Messi but the elusive forward would have the final say. Messi duped Gvardiol on the right, teasing the defender with a series of feints and tricks, eventually spinning 360 degrees to give the Croatian the slip at the byline. Alvarez was waiting for the low delivery and confidently beat Livakovic for his second goal.
Argentina could have had more – Mac Allister was narrowly wide with a volley, late on. But Messi and Co were already assured of their place back at Lusail Stadium on Sunday.
Key moment
Croatia won't be overly disturbed to find themselves one goal down, went the popular argument. All Messi's emphatic penalty did, after all, was dump the 2018 runners-up in familiar territory.
Zlatko Dalic's team recovered deficits against Japan and Brazil to win both matches on penalties and reach this stage. There is a level of cussedness, a refusal to concede defeat, embedded in this team. On the way to the Russia final four years ago, Croatia came from behind in all three of their knockout matches.
A one-goal lead, then, was never going to sit entirely comfortably with Argentina. Indeed, for their part, Scaloni's team haven't always capitalised on getting their noses in front in Qatar.
Saudi Arabia trailed to a Messi penalty before securing a win that appears more extraordinary with each passing Argentina performance in this tournament. Argentina had to rely on penalties to get past the Netherlands after surrendering a two-goal advantage in the quarter-final. Australia, too, put the frighteners on the South Americans when they struck to set up a grandstand finish after seeming out of contention at 2-0 down.
When Alvarez determinedly barged his way through to briskly turn one into two for Argentina, however, it felt like Croatia's race was run. The Europeans expended so much energy to progress to the last four – a core of these players were integral to the final run in Russia, too – and were powerless to dip into the well, once more.
Five breathless minutes was all it took for Argentina to transform a balanced contest, exerting a grip Croatia never threatened to release after the punch to the solar plexus administered by Manchester City forward Alvarez shortly before half-time.
Key stats
Excluding shootouts, only Eusebio (four for Portugal in 1966) and Rob Rensenbrink (four for Netherlands in 1978) have scored more penalties at a single World Cup than the three Lionel Messi has netted at the 2022 edition.
Messi's strike moved him one clear of 10-goal Gabriel Batistuta at the top of the list of Argentina World Cup scorers.
Messi is the first Argentina player to score five goals in a FIFA World Cup since Gabriel Batistuta in 1998.
More Messi: The 35-year-old tied Lothar Matthaus on a record 25 World Cup appearances.
Messi is the sixth player in FIFA World Cup history to score in the round of 16, quarter-finals and semi-finals in a single edition of the competition following Salvatore Schillaci (1990), Roberto Baggio (1994), Hristo Stoichkov (1994), Davor Suker (1998) and Wesley Sneijder (2010).
Argentina: Scaloni and Messi hug following Croatia win
Watch as Lionel Scaloni and Lionel Messi hug following Argentina's 3-0 FIFA World Cup™ semi-final win over Croatia.
Quotes
Lionel Messi: "I feel a lot of things, it's very exciting to see all this [celebrations in stadium]. Seeing the people, the family throughout the World Cup was incredible. We're going for the last game, which was what we wanted.
"I don't know if it's my best World Cup or not. I've been enjoying this for a while. We were confident this group was going to pull it off. We know who we are, and we asked people to believe in us.
"We have been through tough situations, others very good. Today, we live something spectacular. I am enjoying with all these people and with all the Argentines who are in our country. I imagine it must be crazy. We knew we weren't the top candidates [favourites for tournament], but we weren't going to give anything to anyone. We were demonstrating it game-by-game. Argentina is, once again, in the final of the world. Enjoy!"