Moroccan Maison Sara Chraibi presented a sculptural line-up of garments with elaborate, geometric patterns on Thursday, the final day of Paris haute couture week.
Sara Chraibi is a Moroccan fashion label helmed by Sara Chraibi, a designer who is passionate about blending traditional Moroccan aesthetics with contemporary haute couture. Established in 2016, the brand has swiftly made its mark in the international fashion scene.
Chraibi's designs are known for their impeccable craftsmanship, extravagant detailing, and elegant silhouettes. Drawing inspiration from her Moroccan heritage, she revitalizes traditional elements such as intricate embroidery and embellishment, and incorporates them into modern, globally appealing designs.
The sound of a galloping horse announced the arrival of the models. They walked out very slowly allowing the audience a close look at the elaborate garments, their spiky gold heels crunching on a gravel runway in a school yard on the Left Bank in Paris.
A model presents a creation by designer Sara Chraibi as part of her Haute Couture Fall/Winter 2023-2024 collection show for fashion house Maison Sara Chraibi in Paris, France, July 6, 2023. REUTERS/Sarah Meyssonnier
The first looks were long ivory dresses with hooded capes that puffed out at the back, or with oversized sleeves.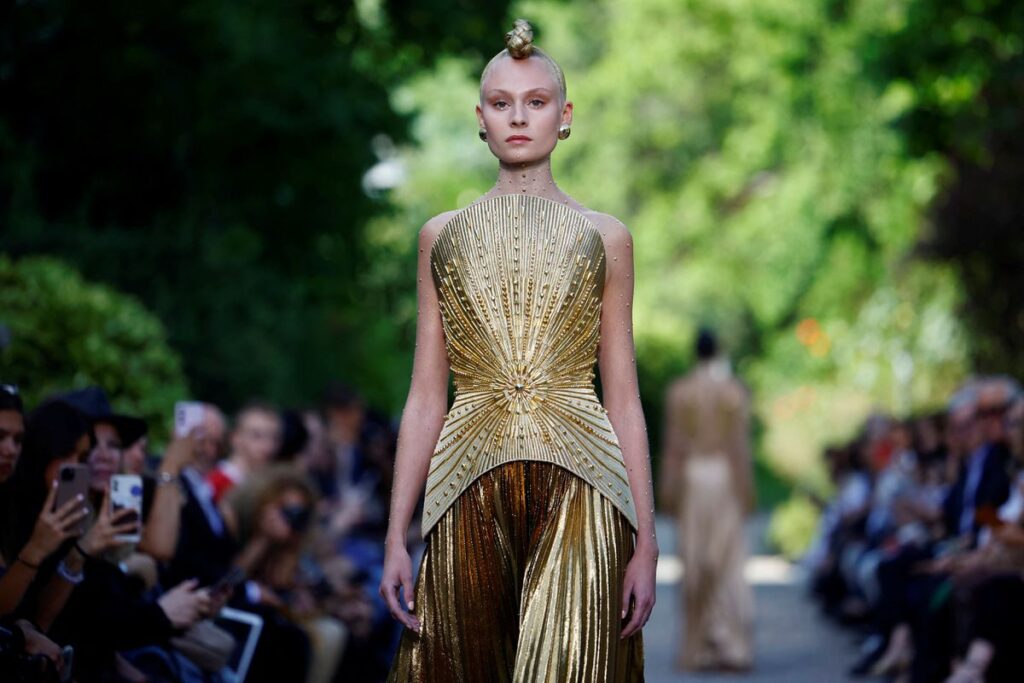 Embroidered embellishments were key stylistic features, taking the form of diamond patterns on bustiers and rows of braids that framed an open back.
The designer, who is based in Rabat, said she dresses women for important occasions, describing her namesake label as carrying "a certain rigour" in addition to its extravagant nature.
Previous work as an architect taught her to consider all angles, as seen in the details on the backs of the garments.
"It's like a building where you look at it from all sides," said Chraibi, after the show.
It was her second outing as a guest on the Paris haute couture calendar, which includes leading luxury houses like Chanel, Dior and Giorgio Armani Prive.
Other guest presenters this season were Juana Martin from Spain and Imane Ayissi, who was born in Cameroon.
Reporting by Mimosa Spencer; Editing by Josie Kao