Cities by the sea: six great beach towns in Europe
Cádiz, Spain
It was a real pigeon's eye view. The guide atop Cádiz's Torre Tavira (€6) manoeuvred the concave viewing dish up, down and around, showing us watchtowers, churches, palaces, dockyards – and dozens of roof terraces with flapping laundry. The camera obscura at the top of this 45-metre tower, the tallest of 129 built in the 1700s for observing merchant ships, is a perfect introduction to Spain's most ancient city, and in particular its maritime position, with sea on three and a half sides.
This camera obscura makes ingenious use of magnification and mirrors, but it is helped enormously by the intense light in this city, capital of Spain's Costa de la Luz. Cádiz is also nicknamed tacita de plata – silver cup – for the way the westering sun glints off the sea; it also makes the white marble west face of Santa Cruz cathedral glitter like a disco ball.
What's also obvious from the tower is that Cádiz is a perfect destination for those who like sea and sand but also a bit of urban buzz. Right in the old town, La Caleta is the smallest city beach, but still 450 metres long, and lovely enough to stand in for Havana in Die Another Day (Halle Berry, binoculars, orange bikini). A stroll to the south, Santa Maria beach is a family favourite, with calm water and a couple of chiringuitos (beach bars) on wide pale sand between two breakwaters.
And these are just a curtain raiser for the four miles of unbroken sands stretching on south, starting with La Victoria (bus 1 or 7 from the old town), preferred by many young gaditanos, offering chiringuitos, pedalos, beach sports, outdoor cinema on the beach, and lots of bars and clubs on the prom behind.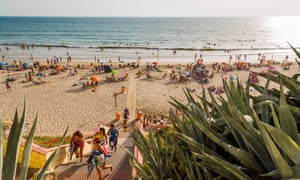 As recently as 15 years ago Cádiz was a dodgy place, known more for drugs and prostitution than tapas and boutique hotels. Things have changed a lot, but not to the extent that tourism pushes locals' lives to the margins. Just minutes from the cathedral square the narrow streets are home to low-key bars and greengrocers, and a historic covered market dealing mainly in fish and seafood such as oysters dredged that morning. The sea views from parks and tree-filled squares loud with birdsong are simple pleasures, but don't miss sights such as the oldest Roman amphitheatre in Spain(entrance on Calle Meson, free); two fortresses, San Sebastián and Santa Catalina, flanking La Caleta with art exhibitions and great views back to the city; and the Beaterio catacombs (€6) for a sobering view of Cádiz life and death in centuries past.
Where to eat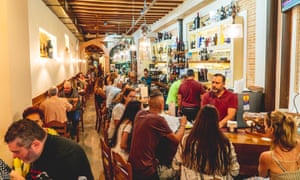 Tapas is the way to go, with the option in many places of "supersizing" to a media racione. Cádiz doesn't quite have a gay quarter, but our guide, dancer Sam Gordillo Conejo, took us to its "gay corner" and purple-painted, David Hockney-decorated tapas bar La Gorda te da de Comer (the fat woman feeds you. Tapas such as salmorejo tomato dip and bright green spinach croquetas cost from €2. Restaurante Balandro, facing north over the bay, is altogether posher, but sit up on high stools at the back bar and you eat the same food (small plates from €5) as in the main restaurant. In the evening, get to locals' favourite Taperia de Columela before the 9pm rush for interesting tapas such as aubergine "chips" and tuna lasagne (about €18 for two including a glass of wine).
Where to stay
Near the cathedral, Casa Nautilus is a converted period house with central atrium, roof terrace and 15 rooms, some with traditional glassed-in balconies (doubles from €59, room-only, but help-yourself coffee, tea and biscuits). Owned by the same people, the Spanish Galleon is more hostel-style (doubles with shared facilities from €35, apartments from €65). It has amazing views from its large roof terrace, and a new ground-floor cafe doing breakfasts from €2 and a €6 vegan lunch.
Getting there
Trains run to Cádiz from London via Paris, Perpignan (sleeper) and Madrid. See loco2.com for details.
Liz Boulter
Toulon, France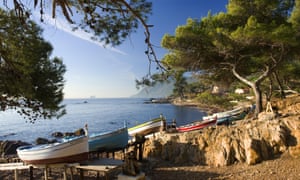 The Côte d'Azur feeling starts soon after the eastbound train leaves Marseille: pale pink houses with apricot-coloured roofs, sharp spires of cypress trees, blue sea glimpsed through the spreading branches of umbrella pines. The line runs on to the millionaire playgrounds of Cannes and Monaco, but its first stop is Toulon, capital of the less-frequented and more affordable western Riviera.
Founded by the Romans and a major naval base since the 15th century, Toulon also happens to have the warmest and sunniest climate in mainland France, and beaches of all kinds along 30 miles of inlets and peninsulas.
Like many ports it once had a rather dangerous reputation, but today it is welcoming and visitor-friendly, with an integrated public transport system covering buses and the sky-blue ferries that ply its enormous natural harbour, linking the old town with beach resorts on its southern rim (10-trip ticket €10/€6.90 under-26s).