Even the ultra-wealthy can get skittish about dropping $50 million on a boat, so superyacht salesmen like Thom Conboy are having to do more hand-holding these days. A checklist of global challenges — including the U.S. trade war with China, a messy Brexit and Germany teetering on recession — has been weighing down sales.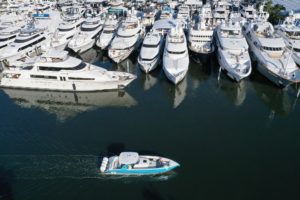 "If you buy something like this, your confidence has to be good," said Conboy, who was manning a 180-foot vessel last week at the Fort Lauderdale International Boat Show, which this year debuted its first Superyacht Village, an exclusive area where the rich arrived by water taxi to tour 100-foot-plus luxury cruisers. "If this political thing keeps going in this muddy trench that it's in, it's not going to help us."
Boat and recreational vehicle sales, as well as dinners at pricey steakhouses and elective plastic surgery can be a good barometer of the economy and raise concern if they drop consistently, since they are highly discretionary, according to Michael Skordeles, head of U.S. macro strategy at SunTrust Banks Inc.
"You don't have to have a boat unless you're a fisherman," said Skordeles, who nonetheless believes the U.S. will avoid recession at least through 2020 because of strong job and wage numbers.
Superyacht Elite Sink $3 Billion a Year Into Money-Burning Boats
For the maker of Conboy's yacht, Dutch builder Heesen Yachts, 2019 is shaping up as a solid, if unspectacular, year. More broadly, though, superyacht builders had only sold 102 such new projects through the first nine months of this year and appear likely to fall well short of the 199 they sold last year, industry newsletter SuperYacht Times reports.
Next year, a divisive U.S. presidential election will only add to industry tension.
Boats are a supremely cuttable expense when the economy starts turning south, and the industry has been anxiously debating what's behind a recent sales drop in certain boat categories of up to 7% compared with a year ago. For now, many in the industry are hoping the dip only resulted from a wet and unusually late onset of summer in the Midwest, rather than early indications of a recession. A steeper dip in recreational vehicle sales also raises questions, although at least part of that is tied to cost increases from tariffs on Chinese imports.
"It's hard to get a really clear view of the next year," said Chuck Cashman, chief revenue officer for MarineMax Inc., a Florida-based boat dealership chain with 67 retail locations nationwide. "Even though the buyer's feeling pretty good, I think the idea that 'something's coming' is in the back of their head."
Despite declines in some categories, powerboat sales in 2019 should hit their second highest level in a dozen years, the National Marine Manufacturers Association says. There was little sign of any retrenchment at Fort Lauderdale's boat show, which promoters bill as the world's largest in-water expo. Several brokers reported strong sales at the boat show, although final numbers weren't available.
Boat sales are highly correlated to consumer confidence, and some brokers at the Fort Lauderdale show could recite from memory the Conference Board's widely-followed confidence index: a robust 125.9 in October. At the depths of the Great Recession in 2009, the measure hit a low point of 25.3 and the boat industry watched its sales plummet by 26% in one year, according to the NMMA. MarineMax stock also sunk to below $2 around the same time, from as high as almost $37 in 2006. The company's stock now trades just under $17.
After a plodding march back to health, by last year new powerboat sales in the U.S. reached 276,000 units, the highest level since the last recession.
People like Ian Rynaski, who had run a struggling mall business during the downturn, flooded back into the industry. For now, he's a "fun-employed" deckhand, he said, maintaining yachts for out-of-towners while he awaits his next gig on a millionaire's boat.
"I knew I could come work in the yachting industry, and live on a boat, make a salary and save a lot of money and pay off my debts," Rynaski said.
This year, the sales numbers have turned muddier.
Small personal watercraft sales have stayed robust, but freshwater fishing, pontoon and saltwater fishing boats have all turned negative in recent months, according to NMMA data. The biggest category, freshwater fishing boats, fell by around 6% each month this summer.
Meantime, sentiment among marine chief executive officers has gradually weakened over the past six quarters, according to the NMMA. Where 65% of CEOs reported business was expanding in the second quarter of 2018, only 27% said business was expanding in the third quarter of this year. Half described conditions as "stable" in the most recent survey.
Mainstream boat builder Brunswick Corp., maker of Boston Whaler and Bayliner boats, blamed the rocky sales on terrible weather that kept buyers away, a situation that started improving by late summer. And, the NMMA describes sentiment as cautiously optimistic.
"We're seeing the consumer sentiment staying strong. We're seeing the CEO sentiment strong," said Frank Hugelmeyer, chief executive of the marine industry group.
Others read more into the slowing sales.
"A cycle's a cycle, right?," said David MacGregor, an analyst at Longbow Research who recently downgraded Brunswick and MarineMax to neutral ratings. "And I think there's enough evidence now that things are slowing down."
A big question mark for 2020 will be who will win the presidency and how far proposals for a wealth tax will get. A few years ago, luxury boat broker Bob Denison had his staff research buying trends during election years and found that boat sales fell off by around 5% in the months leading into a presidential election, with a bigger drop seen in boats over 50 feet. Things rebounded after the election and people realized "things didn't go to Hell in a handbasket," Denison said.
Cashman, the MarineMax revenue chief, had just wrapped up a big win at the boat show last week when he sat for a brief interview — a $14 million yacht sale to a wealthy investor ready to enjoy some of his stock market success.
"If you're in the yacht business, you don't want to hear about a tax on wealthy people," Cashman said.